Our company, based in Japan, specializes in exporting Cermet & Carbide Disposable Saw Blades for cutting steel bars & pipes, Refractories / Ceramic Raw Materials.
We specialize in exporting this specific type of product and have over 40 years of experience. We strive to introduce our product to the global market.
Refractory Division
Export SiC Plate / Slab, Alumina Setter, Mullite Support and other various kinds of kiln furniture for firing Chinaware and Ceramic Products.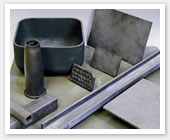 Tipped Saw Blade Division
Ceramic Raw Material Division