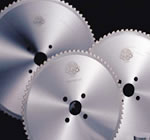 This is the latest disposable narrow kerf Tipped Saw Blade, applied for full automatic high-speed carbide circular sawing machines, which are used for mass cutting production of automobile and machinery parts and other industrial materials.
DAIKO EXCELLENT SAW is the finest grade industrial disposable tipped circular saw blade made by our exclusive tip grinding, heat treating and tempering body technologies, and choice of tip material etc.
Its outstanding productivity and durability enable the operation of full automatic production, able to achieve about 4 times faster cutting speed and durability compared to conventional HSS metal saw.
* Besides this disposable tipped saw blade for cutting steel bar, we also export Dry-Cutter Tipped Saw Blade for mild steel (for buliding materials etc.), tipped saw blads for cutting Wood, MDF, Particle Board, Aluminium and other materials. Please inquire with Daiko Trading.
Movie of DAIKO EXCELLENT SAW
* We can custom design the best fitting teeth shape to meet your needs.
* Our EXCELLENT SAW could be re-sharpened 1 to 3 times, even it is a disposable type of blade.